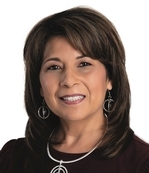 Home isn't just a place...It's a feeling.
Designations: MRP, GRI, TRLP, AHWD
Once a work from home Mom, being a realtor brings me much pleasure getting to be out in the community meeting new people and families. I have come to learn so much more about our great city and how it operates. I've been privileged to be involved with the Chamber of Commerce and serve on various volunteer committees, and it excites me to share our growth and future community endeavors with my clients. I love helping people, and I'm always just a phone call or text away. I love that I get to do my job because I don't see it as a job. I see it as a joy and a way of life.
Languages: English, Spanish
Professional Memberships: Abilene Association of Realtors, Texas Association of Realtors, National Association of Realtors
"Curtiss and I would like to thank you and your real estate firm for representing us in the sale of our home in Abilene. Attempting to place our home on the market while no longer living in the area seemed to be a daunting task. We cannot tell you how extremely pleased we were to be placed in the more than capable hands of Debbie Staggs.Unaware of how long it might be before she would even be able to market the house following the departure of our renters, Debbie immediately committed herself to the right course of action. She provided a realistic assessment of the property, trustworthy recommendations for contractors if needed and guidance for the necessary requirements to prepare the house for sale. Through her research of similar home comparables, she was able to recommend a listing price that was fair to both potential buyer and seller that moved the property quickly. Great encouragement, constant contact and communication, tirelessly checking on the property and providing necessary details are certainly Debbie's strengths. She was a delight to work with.Our home closed in record time, and we are thrilled how smoothly the entire process transpired. In addition, what a wonderful surprise to discover your firm gives back to the community! Our sincerest thanks for donating part of your proceeds to Abilene's local chapter of the American Cancer Society in our name.We highly recommend Stovall Realtors to any and all." - Curtiss & Joyce Petrek - Colonel, USAF, retired 
"Debbie Staggs was a delight to work with in selling our house earlier this year. Her initial consultation was very thorough and professional, and she put a comprehensive marketing plan to get our house sold; which happened faster than we expected despite a rapidly slowing market in the area. We had already started moving (out of town) prior to even listing our home, and were regularly away in our new community while the house was listed. Debbie went truly above and beyond during those times we were unavailable, by taking care of several "incidentals" on our behalf that often come up when selling a house. She was extremely responsive anytime we had questions or needed anything, and we appreciate the warm and pleasant relationship she fostered in what is sometimes a challenging business. We highly recommend Debbie Staggs for your real estate needs." - Jesse & Nikki Villarreal
"Thank you Debbie for all the help you gave me when I was contemplating another home buy in Abilene. You were not only helpful in showing houses, but even more so in your compassion when I backed out on that decision. Because of that quality I readily came to you when my life journey took a turn and I made the choice to leave Abilene and needed to sell the home I had in Tye. You coached me through the selling process and I benefited by the recommendations you gave me to prepare my home for the sale. I had a contract in less than a week and the buyers told me my home was the only one they looked at that actually looked like it did in the pictures!! (a credit to your photographer as well). I was so impressed that when I came to Tyler I specifically sought out a Berkshire Hathaway real estate agent to lead me through my search. And it has paid off! Though it took several days of nearly all day driving me to properties to view, I now have a contract for a purchase to be closed by the end of June. Thank you for what you do and may God bless you to bless others! - Richard Brown
To view Debbie's IABS Form, click here.
Debbie Staggs 's Listings